Herrin': " They say Cedric called the Governor and asked him to send the National Guard down here for the Sunday meeting."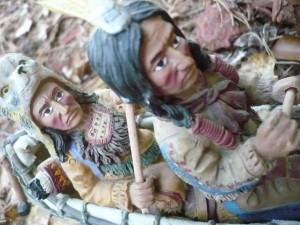 Roe: " Go on."
Herrin': 'I'm just tellin' you what they told me.The Deaconess told Cedric he needed real protection….more protection."
Roe: " Wasn't Mashpee PD enough?"
Herrin': "I Guess they didn't scare enough people. Maybe they're not effective intimidators .But Jez….there was 7or 8  cops there wasn't there….and the Chief?"
Roe: " Yah. Bet the Mashpee taxpayers are tired of paying for Shovel Ready's personal security squad every Tribal Council meeting. All cause the boy won't explain this $90 million dollar laundry he's got goin'.
Herrin: " Has the Board of Selectmen ever had cops greeting Mashpee citizens when they come to their meetings?"
Roe: " Well of course not. They don't need to intimidate their citizens because the selectman actually serve the people of Mashpee. They have no fear."
Herrin': "I gut my rights too as a citizen of Mashpee, the United States and the Tribe. And the police should not be paid to   intimidate me or violate my rights."
Roe:"There aren't any rules anymore with them birds,they're just interested in keeping that money washed….money in money out."
Herrin': "They work for Genting. All they care about is passing that  budget so they can wash that money boy! Nice and clean for Genting."
Roe: "Man if we had that $90 million we could have all kinda tribal businesses, fisheries, restaurants, guided tours, tutors for our kids, a real substance abuse program, proper funding for our Elders program and probably about $5,000 a month per family. Maybe we could get some better gear to fish with."
Herrin': "Damned  right boy. We got nothin' but a bunch of crooks acting like we did something wrong. "
Roe: " Well Messy Jessie and Shovel ready Ceddie are pretty scared ain't they?
Herrin' : Ya. Jessie has really gone around the bend now.  Probably cause the government wouldn't pay for her charter school scam.  "
 Roe: " I know… and Shovel ready says he's the Alpha and the Omega!"
Herrin': " Ya well if he's God, why did he tell all those damned lies in the Mashpee Enterprise, and have Messy Jessie also known as Jessie Lies A Lot talkin' like anyone believes her? Why doesn't he tell all those lies to the Cape Cod Times?"
Roe: "  Well Uncle Sam knows all about it and he'll be right down."
Herrin': " Is he bringing the National Guard? "
Roe: " No foolish, the US Marshals."