Bavaria, Germany September 10, 2012
Cedric Cromwell, Mashpee Wampanoag Tribal Council chairman, today announced the new Tribal casino site.  The Taunton site was lost over a number of  flaws in the proposal that spurred the citizens of Taunton to unanimously reject the project.  The new site is a spectacular one, and is virtually ready for occupation.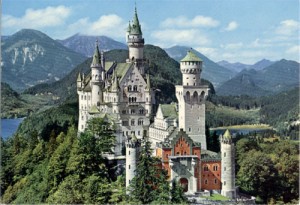 "We've made a bold move," said Cromwell, waving his arms over the panoramic view from the site, "this is really the place that's going to put our Tribe all over the map."
Schloss Neuschwanstein, the fairy tale castle built by Bavaria's "Mad King" Ludwig II, was planned to have some 200 rooms.  It was never finished.   Ludwig was deposed after being found to be insane.
We at ReelWamps consider it an appropriate venue.